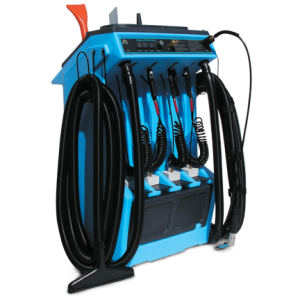 The Deluxe Prep Center Automotive Detailer from Mytee Products is all you need for every automobile you encounter. Along with its unbeatable features and the quality known to Mytee, it comes with every tool you will need and the organizational capability to keep it together.
Powerful Features:
This amazing machine is all-in-one. You need only one power source to plug in the 25 foot, lighted power cord. All the controls are conveniently located right on the front face plate. There you will find 3 switches. One is for the high performance 3-stage vacuum motor, another is for the 120 PSI pump and the 3rd for the 1200 watt heater. There you will also find the hookup for your blower hose which blows out filtered, heated air. There is a quick disconnect for your solution hose, a vacuum nozzle and an auxiliary hookup.
The 4 adjustable guns are located on the lower half. They each have their own jug with rubber seal and can be adjusted to stream or spray your chosen cleaner. Their 20 foot coiled hoses allow you to move freely around the automobile as you use them and the levers are lockable for comfort when spraying down large areas.
Organization:
With all of this going on, organization is the key for efficiently getting the job done. Fortunately, the Prep Center gives you that. On top you will find 3 cubbies. There are 2 round ones and 1 square which are convenient for holding different sizes of chemical bottles, rags or whatever else you need nearby. Behind the cubbies, you will find 3 storage studs. These are perfectly sized for storing your cleaning tools. It also comes with hose handles for hanging your vacuum and blower hoses when they are not in use.
Included accessories:
• 25 foot blower hose
• blower attachment with rubber nozzle
• 25 foot vacuum/solution hose
• stainless steel upholstery tool
• vacuum crevice tool
• window attachment
Mytee offers a limited lifetime warranty on all machines, instructional videos on using products on the Mytee website and a variety of local service centers throughout the country.