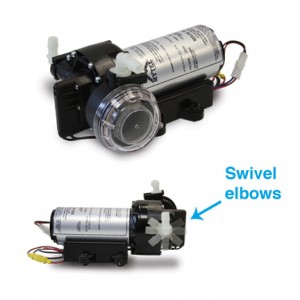 The Truck Mount Transfer Pump from Mytee Products is the ideal partner for any truck mount unit. It has a patented design that works with your machine to prevent damage to machine components. It is also safe and easy to use and is designed to prevent the need for additional equipment.
The Transfer Pump has a patented 5 chamber design that produces the highest GPM in the industry – 5.3. It has variable flow technology to adjust the motor's RPM so it can keep pace with the flow demand of a high pressure pump and conveniently uses the same power source as the truck mount tank. It has an intelligent circuit board that reduces 10 amps to a 0.1 mili-amp signal, therefore reducing the danger of overheating that similar pumps cause, and has a soft start/stop that prevents switch damage.
This Pump has amazing safety and convenience features. It comes with a built-in mesh filter to prevent dirt and debris from clogging and damaging the motor that is easy to remove and clean as necessary. It's internal electronics are also protected by embedded circuitry in the epoxy base plate. It has 2 swivel elbows with easy disconnect that can be connected to any ½ solution hose.
Mytee offers a limited lifetime warranty on all machines, instructional videos on using products on the Mytee website and a variety of local service centers throughout the country.