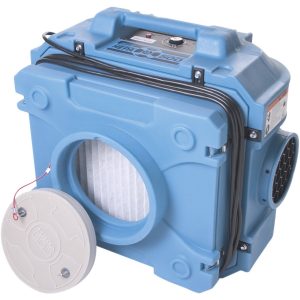 Clear contaminants from the air during a restoration project and restore the interior environment to its pre-damaged condition with the DefendAir HEPA 500 from Dri Eaz . This powerful machine can be used as both an air scrubber and a negative air machine. Its proven components and light weight make it optimum for your business since it is both highly effective and easy to transport.
Used for air scrubbing, the DefendAir passes air particles, along with any contained contaminants, through its 2 stage HEPA filtration system and sends them back out cleaner and safer. It effectively deals with the bad environments created by sewage, mold and fire damage. Adding an optional Activated Carbon Filter will allow the machine to also dispel smoke fumes and other noxious odors. The optional DOP filter assures first pass filtration. This machine can also help in jobs where damage is caused by clean water. The high velocity used by blower systems can stir up contaminants that have settled in carpet or on hard floors and walls and put them out into the air.
This system also has an optional ducting system. Adding this turns the DefendAir into a negative air machine. Ensure maximum safety in the environment you are restoring by capturing aerial bacteria within the machine. A variable speed control lets the machine produce anywhere from 250-500 CFM.
Transportation is easy for this machine. Made from roto-molded polyethylene with built in Microban antimicrobial protection, it is safe to handle and light enough to carry. It can be daisy chained together with other units, allowing up to 3 to use only one outlet for power. The multiple units are stack-able, leaving plenty of room in your truck even when you have more than one.