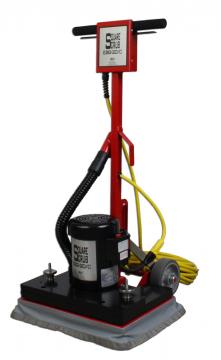 The EGB-20C is an innovative piece of equipment from Square Scrub. It can absolutely tackle every type of professional floor job imaginable but it is designed with simplicity in mind, enabling it to be used by any average contractor. The unique shape offers things that no regular floor machine does, yet it still has the power to accomplish every objective. On top of this, it has important features that make it transportable to every job you do.
Square Scrub is aptly named. The EGB-20/C has a 20 inch square base that easily reaches an entire floor area all the way to the walls and corners and even up stairs. Discover how easy it is to get the job done quickly since you can see the straight lines it makes without having to overlap. A 1 ½ HP motor moves at 3450 RPM so you have the power to get any type of job done efficiently. Don't be concerned that this type of power will be impossible to support. A 50 foot power cord with a lighted, hospital-grade plug makes it easy to find a power source and pulls only 6.9 amps so you will never have a breaker overload.
This floor machine does it all – floor preparation, cleaning, buffing, polishing, sanding, adhesive removal and even carpet scrubbing – because you have a choice in over 100 pads of every type. The EGB can work on literally any type of flooring. It comes with slotted weights that are made for easy addition or removal so your machine can even do hard jobs like honing and scraping. A strategically placed base cuff assures an even weight distribution so you will always achieve a smooth finish.
To top off all of the wonder, the EGB is very user friendly. It has a vibration reducing handle to reduce injury and fatigue in its operator and 6 inch non-marking wheels so it is easy to move. When you are done using it, you will find that the dust containment unit has left less extraneous cleanup and that the entire machine comes apart for convenient carrying and loading.
The EGB-20/C is also very durable with its coated steel frame and saves you money since it is entirely self-servicing. Instruction videos are available on the website to teach you how to do this.