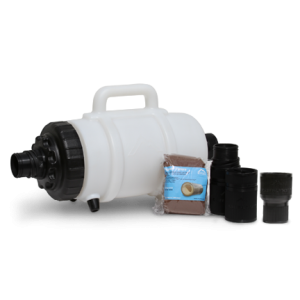 The Lint Hog Filter from Mytee Products is an amazingly durable lint trap that saves you money by extending the life of your extractor.
Housed in roto-molded polyethylene, this 12 inch stainless steel mesh filter protects the inner workings of your carpet extractor by capturing dirt and debris. Yet its wide ribbed body still allows for maximum air flow.
This valuable piece comes with 2 2 inch Cuff-Lynx and a package of o-rings so you can easily attach it to your vacuum hose. You will also get a package of 25 piglet filters to increase this filter's ability.
Mytee offers a limited lifetime warranty on all machines, instructional videos on using products on the Mytee website and a variety of local service centers throughout the country.