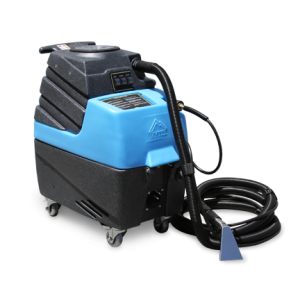 This original design from Mytee Products gives a compact machine with great ability to meet all of your car detailing needs. The Spyder Automotive Detail Extractor is a smaller version of the Grand Prix and, like the larger unit, features a single 25 foot power cord. This design was the first heated extractor to use a only one power source for pumping, heating and extracting.
The Spyder's 120 PSI diaphragm pump puts out 1.3 GPM of solution as you clean, while the 1200 watt in-line heater effectively gives you 210 degree water that breaks up dirt and grease. It is equipped with a low amp three stage vacuum motor and 1 ¼ inch vacuum hose for sucking it all away.
This portable cleaning machine has a smoothly curved housing made of roto-molded polyethylene that resists dents and rust. It contains a 5 gallon recovery tank with a bucket high release valve on back that allows you to easily empty it. Featuring 4 3 inch wheels with locking casters, you can easily transport this unit to and from your van or hold it in place when using it.
Included accessories:
• 15 foot vacuum and solution hose
• Stainless steel hand tool
Mytee offers a limited lifetime warranty on all machines, instructional videos on using products on the Mytee website and a variety of local service centers throughout the country.