The FX-88 extracting machines are skillfully manufactured for use during carpet cleaning, tile and grout scrubbing or flood restoration. Constructed with a polyethylene housing, they won't dent and are durable enough to last for years. They include a number of helpful features and are an all in one deal for the needs of your business.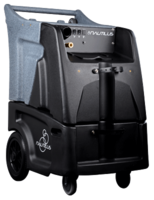 The Nautilus series is a new generation of portables for a new generation of cleaners.  These portable extraction machines can be used for carpet, tile and grout or upholstery cleaning.  Offering you a beautifully constructed body, smooth movement and easy use, this fantastic piece of equipment recreates the standard of portable machine.
The body of the Nautilus is made from thick, molded polyethylene and is fitted with all stainless steel hardware.  It is molded in several locations to provide places for sprayers, power cord storage, bucket carrying, tool carrying and handholds.  Drilled in holes on the side create 2 places for optional hose hangers and the flat top will keep your rags, chemicals or other small necessities.  It has true 12 gallon tanks for solution and recovery.
Olympus machines
The Olympus team of machines will give you years of problem free use.  These machines are hand-crafted.  Each one is made individually and tested for performance before being sold.  With proper maintenance, your machine will offer your business years of service and allow to you to deliver professional results to every customer.
 
FX-88:  This model will fulfill the duties of a carpet and upholstery extractor while making your part as the technician easier.  With its auto-fill and chemical metering feature, you will save time when it comes to setting up.  Triple 2 stage motors deliver lots of power to the stainless steel dual jet wand for magnificent cleaning.  Its PSI can be adjusted from 50-500.  The automatic dump feature not only makes it easy to finish the job, it enables the machine to function spectacularly for restoration jobs as well by delivering a first in its class 20 gallons per minute.
 
FX-88HP:  This machine comes with the same great features but delivers much more power with its two 2 stage motors.  It is fitted with an adjustable pressure pump that will provide you with up to 1200 PSI.  With it you can easily run tile and grout cleaning tools, but can still clean carpet or upholstery when you lower the pressure to a gentler level.
 
These machines are completely portable with large back wheels and front swivel wheels for moving and a handle system that enables efficient loading and unloading. They both come with 4 hoses to meet every use – a water hookup, a dump hose, a solution line and vacuum hose. Don't waste space in your van on 2 or 3 different machines; the FX-88 can perform every job itself.