Portable Carpet Cleaning Extractors – Mytee
We are master distributor for Mytee products.
We are here to help you every step of the way, providing training and advice whenever you need.
Call us today on 1-800-CHEM-TEX: you'll be glad you did!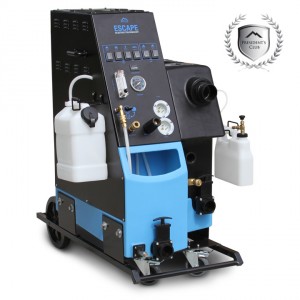 ESCAPE ETM
ETM-with-cartThe Escape ETM Electric Truckmount from Mytee Products is a revolutionary machine that does it all. This unit can be used for carpet extraction, hard surface cleaning, flood extraction and even upholstery cleaning. Its many features also give you convenience in both use and maintenance.
 
Speedster 1000DX-200 Portable Extractor
* Dual Triple-Stage Vacuum
* 220 PSI Pump
* 200 CFM
* 12 Gallon Recovery Tank
* 12 Gallon Solution Tank
* 12 Inch Stainless Steel Wand
Speedster 1001DX-200 Portable Extractor
* Dual Triple-Stage Vacuum
* 220 PSI Pump
* Heater
* 200 CFM
* 12 Gallon Recovery Tank
* 12 Gallon Solution Tank
* 12 Inch Stainless Steel Wand
 Speedster 1003DX Portable Extractor
* Dual Triple-Stage Vacuum
* 500 PSI Pump
* Heater
* 50 Foot Vacuum and Solution Hose
* 12 Gallon Recovery Tank
* 12 Gallon Solution Tank
* 12 Inch Stainless Steel Wand
 Speedster 1005DX Carpet Machine
* Dual Triple-Stage Vacuum
* 500 PSI Pump
* 50 Foot Vacuum and Solution Hose
* 12 Gallon Solution Tank
* 12 Gallon Recovery Tank
* 12 Inch Stainless Steel Wand

 
 
2000CS Portable Extractor
* Dual Two-Stage Vacuum
* 100 PSI Pump
* 15 Foot Vacuum and Solution Hose
* 11 Gallon Recovery Tank
* 11 Gallon Solution Tank
* 12 Inch Stainless Steel Wand
2001CS Portable Extractor
* Single Three-Stage Vacuum
* 100 PSI Pump
* Heater
* 15 Foot Vacuum and Solution Hose
* 11 Gallon Solution Tank
* 11 Gallon Recovery Tank
* 12 Inch Stainless Steel Wand
M 5 Carpet Cleaning Extractor
* Dual Triple-Stage Vacuum
* 500 PSI Pump
* 50 Foot Vacuum and Solution Hose
* 15 Gallon Solution Tank
* 15 Gallon Recovery Tank
* 12 Inch Stainless Steel Wand
M 16 Portable Carpet Cleaner
* Dual Two-Stage Vacuum
* 1200 PSI Pump
* 50 Foot Vacuum and Solution Hose
* 15 Gallon Solution Tank
* 15 Gallon Recovery Tankv
* 12 Inch Stainless Steel Wand

 
 
 
 
LTD3 Speedster®
Ultimate Clean – When you add 210˚ maximum heated solution to your cleaning expertise you will break up the industry's toughest stains with ease. The LTD3 Speedster is equipped with a powerful cleaning trio that is guaranteed to get the job done well and earn you the repeat business your company deserves. This dynamic cleaning system includes an adjustable 500PSI pump, high performance dual 3-stage vacuum motors, and effective 1600 watt heater…
LTD5 Speedster®
Extreme Clean – This industry leading extractor's power and performance is unrivaled by other portables of its kind. Equipped with dual "ultra-high performance," three-stage vacuum motors and a "Triplex Adjustable" 500 PSI pump, it increases water recovery and cuts dry times in half. The LTD5 is reliability you can depend on to get the job done the first time…

LTD12 Speedster®
Rugged Reliability – Zap away dirt and filth from hard surfaces including the most stubborn grout stains with the Speedster LTD12's fierce 1000 PSI pump and heavy-duty, dual three-stage vacuum motors. Competing portables pale in comparison to the unrivaled efficiency of Mytee's new LTD12 Floor Machine; it leaves the floors drier recovering more water than older models…

VS1500 Firebird™
The Firebird™ Vapor Steamer provides a vast amount of versatility providing one solution to a number of cleaning jobs. The Firebird rapidly eliminates dirt, gum, and other stuck on substances from smooth surfaces including, vehicle detailing, walls, bathrooms, kitchen, and more. It provides true "green" cleaning and sanitization because it is chemical free using high temperature steam to loosen dirt and safely clean any area…

For more information,
please call!

713-668-1212

back to main page for

Tempo Carpet Machine
* Single Two-Stage Vacuum
* 55 PSI Pump
* 8 Foot Vacuum and Solution Hose
* 1.5 Gallon Solution Tank
* 1.5 Gallon Recovery Tank
* Upholstery Tool 

 Mytee Lite
* Body Roto-molded polyethylene
* Tank 3 gallon
* Vacuum Single 3 Stage
* CFM 100
* H20 130″
* PSI 120





 
RL100 Extractor Machine
* Dual Two-Stage Vacuum
* 100 PSI Pump
* 25 Foot Vacuum and Solution Hose
* 10 Gallon Solution Tank
* 10 Gallon Recovery Tank
* 12 Inch Stainless Steel Wand
RL105 Carpet Machine
* Dual Three-Stage Vacuum
* 500 PSI Pump
* 25 Foot Vacuum and Solution Hose
* 10 Gallon Solution Tank
* 10 Gallon Recovery Tank
* 12 Inch Stainless Steel Wand
RL1200C Portable Extractor
* Dual Two-Stage Vacuum
* 1200 PSI Pump
* 25 Foot Vacuum and Solution Hose
* 10 Gallon Recovery Tank
* 10 Gallon Solution Tank
* 12 Inch Stainless Steel Wand
SC-9 Cleaning Machine
* Single Three-Stage Vacuum
* 100 PSI Pump
* 1/4 HP motor
* 9 Gallon Solution Tank
* 9 Gallon Recovery Tank
Grand Prix Carpet Machine
* Single Three-Stage Vacuum
* 100 PSI Pump
* Heater
* 15 Foot Vacuum and Solution Hose
* 11 Gallon Solution Tank
* 11 Gallon Recovery Tank
* Upholstery Tool

Spyder HP60 Carpet Cleaner
* Single Triple-Stage Vacuum
* 100 PSI Pump
* Heater
* 25 Foot Vacuum and Solution Hose
* 6 Gallon Solution Tank
* 6 Gallon Recovery Tank
* Upholstery Tool

Flood Hog Floor Machine
* Single Three-Stage Vacuum
* 25 Foot Vacuum and Solution Hose
* 12 Gallon Recovery Tank
* Flood Wand
KS500 KLEEN-SAFE
The Kleen-Safe Touchless Cleaning System from Mytee Products is a safe and effective way to clean bathrooms, locker rooms…
PB-3 Piggyback™ Pump-out Extractor
* Limited lifetime warranty
* .35 Amp Draw
* 25′ power cord
* 29 1/2″ dip hose, 19″ input hose, 7″ output hose
* 3.5 GPM
* Dimensions: 9 1/4″ x 7″ x 8 1/2″
* Weight: 12 lbs
240-120 Mytee Hot Turbo Extractor
* Limited lifetime warranty
* Amp Draw: 5A, 10A, 15A, or 20A
* Max Temp: 210° Max Temp
* Heater: 2400 Watt, (4-600 Watt Heaters)
* Single, 25′ Cord
* Dimensions: 11 1/2″ x 12 1/2″ x 11″
* Machine Weight: 32 lbs.
AV1 Auto-Vac Machine
One 4' vacuum hose to connect to your extractor, one 15' vacuum hose, one Crevice Tool, one Claw tool and one mounting bracket
* Limited lifetime warranty
* Capacity: 6 quart poly molded
* Filter: Removable Paper
* Dimensions: 8″ x 8 1/2″ x 17 1/2″
* Weight: 6 lbs.

For more information,
please call!

713-668-1212

4000 Water Hog
Powerful – Adjust the pump from 50-1200 PSI, depending on the job.
Easy to Use – Connect to any water inlet source using a standard garden hose. Features a built-in pressure gauge and regulator, easy prime for the pump, handle with hangers for hoses and guns, and a 25' cord wrap.
Durable – With a roto-molded polyethylene body and quality metal handle.
Covered by Mytee's customer service policy, which includes a limited lifetime warranty and national