The Ultimate Portable Carpet Cleaning Start Up Package! 
Speedster 1003 DX Carpet Cleaning Machine Package Deal
Speedster 1003 DX Portable Carpet Cleaning Machine
Dual Triple-Stage Vacuum
500 PSI pump
2000 Watt heater
12 gallon solution tank
12 gallon recovery tank
50ft solution hose
50ft vacuum hose
stainless steel wand (12 inch)
Hard Surface Cleaner
Chemicals:
Gallon – Magic Tile and Grout Cleaner
Gallon – Carpet Freshener (any choice)
Gallon – PH 5000 (Detergent)
Gallon – Supreme (Prespray)
We have everything you need to start your business or expand your existing business! Call us today and ask about our other carpet cleaning package deals.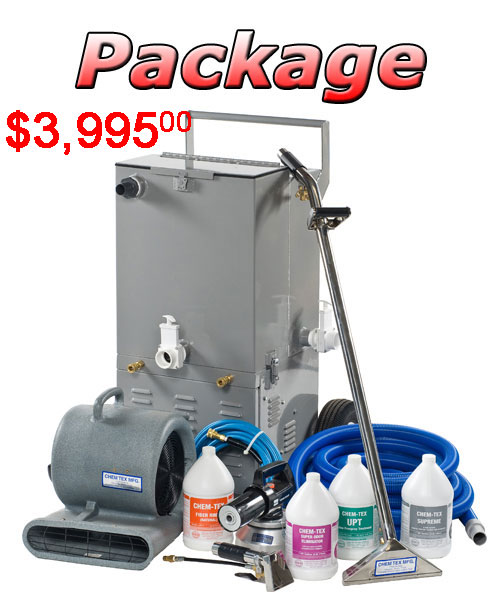 FEATURES:
* TRIPLE TWO STAGE VACUUM
* 1000 PSI PUMP (FOR CLEANING)
* 100 PSI PUMP (FOR DYEING)
* 18 GALLON SOLUTION TANK
* 18 GALLON WASTE TANK
* WARRANTY: 5 YEAR ON HOUSING, 1 YEAR ON COMPONENTS
* DIMENSIONS: 20″ x 18″ x 43″
INCLUDES:
* 50 FOOT OF VACUUM AND SOLUTION HOSE
* 12 INCH S.S. SINGLE JET WAND
* START UP CHEMICAL PACKAGE
* UPHOLSTERY TOOL
* ELECTRIC HOT FOGGER
* AIR MOVER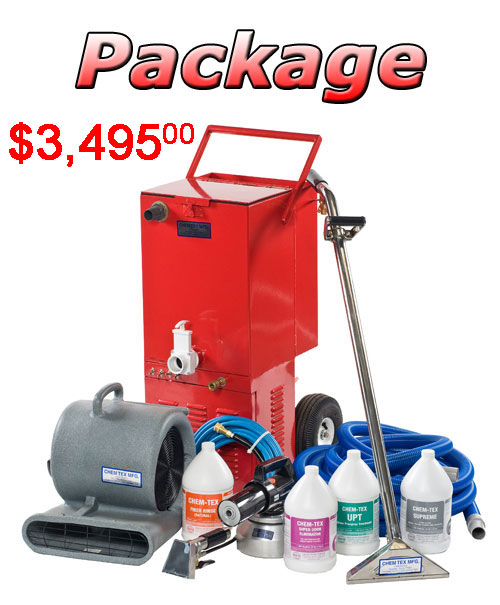 FEATURES:
* DOUBLE THREE STAGE VACUUM
* 1000 PSI PUMP
* 12 GALLON SOLUTION TANK
* 12 GALLON WASTE TANK
* WARRANTY: 5 YEAR ON HOUSING, 1 YEAR ON COMPONENTS
* DIMENSIONS: 16″ x 17″ x 39″
INCLUDES:
* 50 FOOT OF VACUUM AND SOLUTION HOSE
* 12 INCH S.S. SINGLE JET WAND
* START UP CHEMICAL PACKAGE
* UPHOLSTERY TOOL
* ELECTRIC HOT FOGGER
* AIR MOVER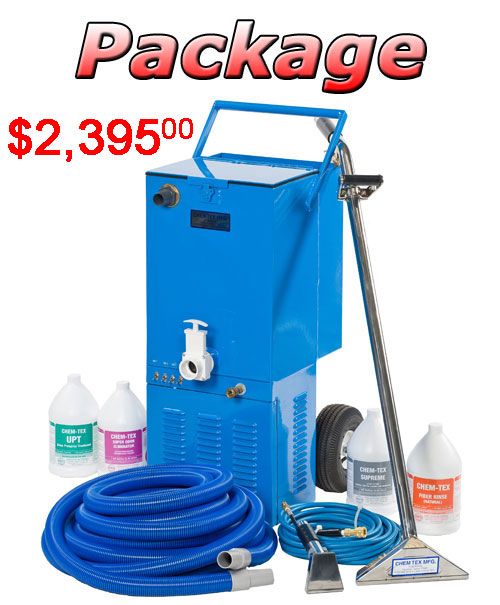 FEATURES:
* DUAL TWO STAGE VACUUM
* 100 PSI PUMP
* 2000 WATT HEATER
* 12 GALLON SOLUTION TANK
* 12 GALLON WASTE TANK
* WARRANTY: 5 YEAR ON HOUSING, 1 YEAR ON COMPONENTS
* DIMENSIONS: 16″ x 17″ x 39″
INCLUDES:
* 50 FOOT OF VACUUM AND SOLUTION HOSE
* 12 INCH S.S. SINGLE JET WAND
* START UP CHEMICAL PACKAGE
* UPHOLSTERY TOOL