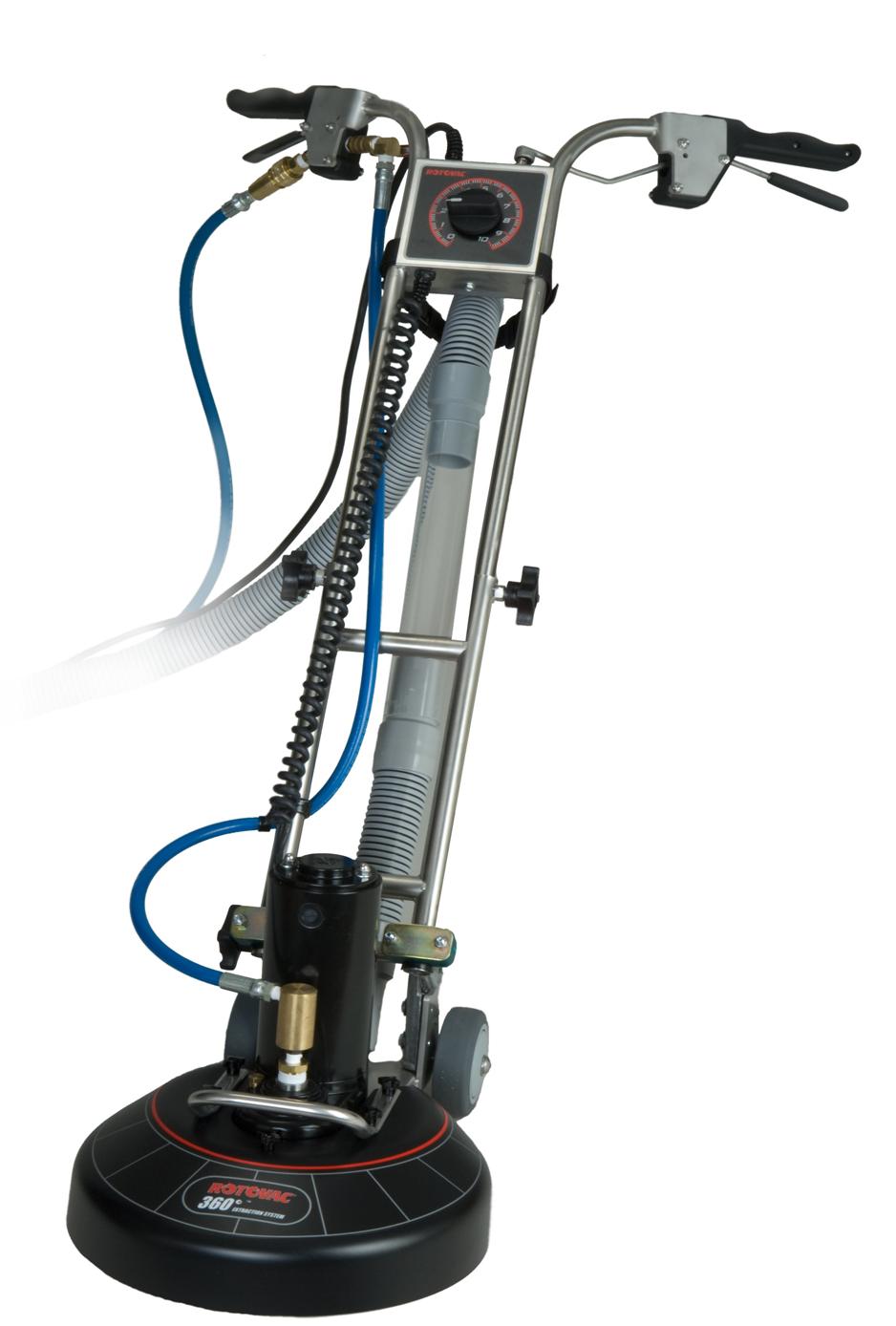 The 360i from Rotovac Corporation is a revolutionary tool that brings you the latest technology in extraction carpet cleaning and hard floor scrubbing through a patented design.  It will replace any manual scrub wand you have used in the past and will work with your portable or truck mount machine.  This rotary "wand" is an invaluable addition to your business.  It draws very little extra power but takes over loads of manual labor and leaves carpets far cleaner and dryer than the average methods.
The 360i supports 4 easily interchangeable heads that allow you to use it on stairwells, virtually any type of carpet from commercial to high end and hard surfaces like tile and grout.  The combination of rotary agitation and hot water extraction allows your cleaning solution to get down to the base of the carpet and pull out the dirt and grime that could cause carpets to look dingy again only a few short months after cleaning.
From top to bottom, this tool is an excellent choice.  The comfort grip handles make it easy to control while using it.  Between them is the speed dial that allows you to vary the head's rotation to that of your liking.  The telescoping handle can be easily adjusted for the height of any operator and for ease in stair cleaning.  The head itself will move as fast as 250 RPM, for maximum performance.  This allows the 3 jets and extractors to make 750 passes per minute over the floor you are cleaning.  The head is plumbed to handle up to 1200 PSI of water pressure.
Let the 360i do the hard work for you.  Engineered for side to side passes, it won't strain your back and shoulders.  With a stainless steel handle and cast aluminum base, it is durable yet light.  Retractable back wheels make it easy to tip and roll for transport.  On top of all of these great features, it can be a great marketing tool for you.  "Patented design" means there is nothing else like it, so you can offer potential clients a carpet cleaning service that truly stands out.
ACCESSORIES:
360i Cleaning heads