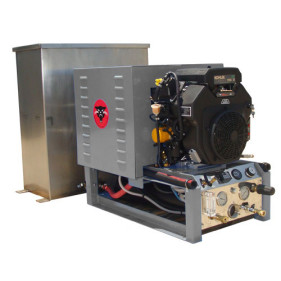 Panther EFI 21HP
Panther EFI 21HP is a compact, simple, and affordable truck mount carpet cleaning machine.
We have designed the Panther EFI 21HP provide you with unbeatable performance in any application.
25% Less gas consumption
Reduces carbon emmissions
Less maintanance
No choke, even in the coldest winter time
Starts even if you have not started equipment in awhile
Higher productivity
Lower operating cost
[tab_container initial_open="1″]
The main features of the 2013 Panther EFI 21HP Truck Mount are:
Most advanced heat exchange system
15 inch of mercury vacuum performance
Powerful EFI Kohler Engine from the #1 engine manufacturer in the US.
High water shut down switch system
Last Step Chemical Injection System
Simplified design for easy maintenance
Compact Size for easy installation
Stainless steel recovery tank with lifetime warranty
12 Volt Battery
Panther EFI 21 Includes
S.S. recovery tank
100 ft. vacuum and solution hose
S.S. dual jet wand
Compact Size: 36″ L x 20″ W x 32″ H
Tank: 30″ L x 15″ W x 36″ H
Panther's compact size and light weight allow easy installation in any small 1/2 ton-related van or truck with plenty of room for extra tools and equipment.
High water shut down switch System
Chemical does not go through the system which protects the pump and heat exchanger.
Produces Heat up to 190° F
State-of-the-art 100% stainless steel dual heat exchange system. Cut costs by eliminating dangerous LP gas or fuel.
Powerful Vacuum System:
The Roots® 45 MP Positive Displacement Rotary Lobes vacuum blowers produce over 15 inches of mercury 410 CFM. The Panther 20's powerful Roots® blower dramatically reduces carpet-drying time. Operating Vacuum Hose Length 450 feet maximum.
High Pressure Pump: HYPRO® 3 Piston Pump 2500 PSI
100% Stainless Steel Recovery Tank with a Lifetime Warranty.
Weight: Panther EFI 21HP – 350 lbs. Recovery Tank – 70 lbs.
Please fill out this form and we will contact you shortly with a quote.
[/tab_container]
Related Products
Please Call to Place an Order
1-800-CHEM-TEX or 713-668-1212