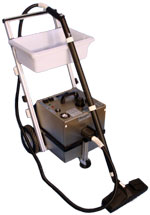 Commercial Steam Cleaners
Looking for Steam Cleaners that won't bankrupt your budget?
Chem-Tex has what you are looking for at an affordable price!
We are the industry's foremost provider of the most powerful steam cleaners on the planet! Steam cleaners that get the job done and won't break down after repeated use! For the busy professional, or the average home owner a steam cleaner is a must have for keeping your carpets clean and like new!
Our steam cleaners utilize innovative technologies, and you can be rest assured you will find exactly what you are looking for.
Chem-Tex steam cleaners will tackle even the most demanding of jobs, and are suitable for all your carpet cleaning needs! No matter if you are dealing with dirt, mud, and grass stains, or children or pet stains, our machines will get the job done, no matter how tough!
We have the full line of Raven Backpack Vacuums that are known for their durability and how light weight they are! At less than 12lbs you won't have to bend or strain in order to get those tough to reach spaces!
Chem-Tex also has Commercial Steam Cleaners, ranging from UL series to the Sterivap.
Your carpets should reflect the type of homeowner you are, so why trust anyone else but Chem-Tex!
Our steam cleaners are guaranteed to get the job done! You won't have to worry about the type of equipment you are getting!
Chem-Tex equipment is manufactured in house, and each product goes through a rigorous test before it put on the marketplace.
We wouldn't put out steam cleaners that we wouldn't clean our own house with! It's that simple!
Not only are you getting a steam cleaner for a great price, but here at Chem-Tex we can ensure that you are getting powerful equipment that will get out even the toughest of stains!
Don't make the mistake of buying anywhere else!
Some steam cleaning sellers will give you the run around and give you a product that simply doesn't work! Stains won't come up, the carpets remain wet for way too long, and harmful pathogens remain into the carpet even if, at surface level, it looks clean!
At Chem-Tex you won't have that problem!
We offer steam cleaning machines that produce heat at a high enough temperature that will be sure to get out those tough stains and kill off any germs that may be lingering in the fibers of the carpet!
A clean carpet will boost the air quality of the home to sort out any pathogens or allergens that may be lingering around. In addition, clean carpets will increase the value of a home!
At Chem-Tex customer satisfaction is important!
If you have questions or concerns, let us help you every step of the way! Chem-Tex staff is knowledgeable and will answer any type of questions you might have!
With Chem-Tex you are guaranteed to get what you are looking for at a reasonable price that you can afford!
So what are you waiting for?
Call today and let us know how we can help you!