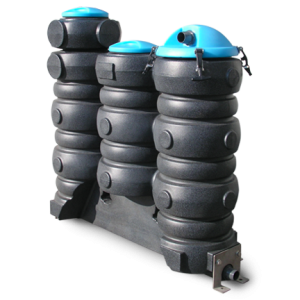 The T-80R-L The Tank from Mytee Products is a revolutionary design for a truckmount unit. This tank is made of roto-molded polyethylene and so is significantly lighter than a metal tank but is still strong enough to handle daily use.
Its unique baffle design gives it the appearance of 3 smaller tanks in one that reduce water movement. They can hold up to 70 gallons of water. The drain valve and 3 separate lids make for easy cleanup. There are multiple 2 inch entry points for the vacuum source and it is slim enough to place in any position in a van or trunk.
The T80 is also versatile and can be set up as a vacuum recovery tank or as a freshwater solution tank. This tank attaches to your left wheel well.
Mytee offers a limited lifetime warranty on all machines, instructional videos on using products on the Mytee website and a variety of local service centers throughout the country.