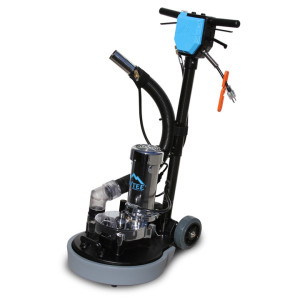 The T-Rex Total Rotary Extraction Tool from Mytee Products is an excellent alternative to typical wand carpet cleaning. Its many convenience details and powerful rotary head make it simple to use and extremely effective in all carpet extracting jobs and its comfortable design and light weight make it easy to transport.
The T-Rex has a positive locking handle which can be adjusted to fit the height of any person. The carbon fiber vacuum hose is held in place by 2 hooks on the side of the handle and has a clear elbow to give a good view of the water as it is extracted so you can see when it runs clear. The T-Rex has a sturdy swivel handle for the solution hose that can handle up to 4000 PSI. The lighted pigtail power cord can be clipped in place to prevent the machine from detaching during a cleaning job and the ambidextrous safety switch prevents damage to nearby objects.
The 15 inch rotary head is one of the most fantastic features of this machine. It adds pressure to the cleaning with its heavy construction. The head is controlled by a chrome-plated transmission and an electric motor that can be adjusted from 60-160 RPM. The bottom of the head can be adjusted to fit your needs. It comes with 6 vacuum heads and 6 spray jets to really dig in and extract debris from the carpet. However, the spray jets can be removed if you need less or can be added to if more are needed.
The T-Rex weighs only 65 pounds and the detachable cleaning head weighs 18 pounds. Easily grasped with the attached front handle, these components can be lifted and transported by almost anyone. It is also accompanied by a vinyl shroud that can be attached or removed as necessary to protect the rotary head during transportation.
Mytee offers a limited lifetime warranty on all machines, instructional videos on using products on the Mytee website and a variety of local service centers throughout the country.