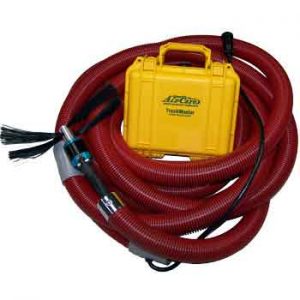 The Truck Master Duct Cleaning System from Air Care recognizes that duct cleaning is a natural addition to carpet cleaning in many homes and offices. In light of that, this system is designed to use the powerful vacuuming capability your business already possesses with its truck mounted carpet extractor. You will not need to buy an extra piece of machinery; the Truck Master provides exactly what you need to deliver an excellent additional service to every customer.
This system includes 3 key components. They are small and will take up a minimal amount of space in your van while giving you a maximum amount of cleaning capability. These 3 components are:
Control Box
The control box provides power to the brush motor and is completely waterproof when closed making it safe to store with all of your carpet cleaning equipment. It has a control panel and electronic board with IR sensor and decoder and has 120 V of power.
Vacuum Hose with Brush & Motor Assembly
This 35 foot hose has the brush and motor assembly mounted right on the end. The flexible motor mount will leave the opening of the 1 ½ inch hose unobstructed for powerful suction while the nylon brush scrubs away caked on dirt. The "Flex-E-Bristles" will fit in and effectively clean ducts as small as 4 inches and as large as 12 inches. They will work on ducting made of plastic, fiberglass or steel. For machines that require a 2 inch hose, an optional hose of that size can be ordered and comes with an 18 inch brush instead.
Remote Control
This infrared hand held transmitter allows you to control the brush motor.
Included with the Truck Master are the dust damper and a coil and carry hose hanger.