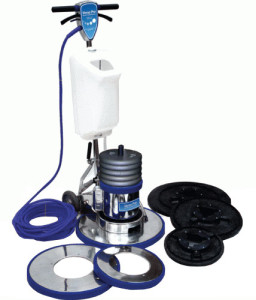 The savvy business person knows that have to be ready to clean a variety of floor surfaces. With the Versa Pro, you have one cleaning machine that gives you the ability of several different machine types without the cost. You need only buy the one machine and then choose your accessories as needed to transform it into the machine you need for the cleaning of any floor.
The Versa Pro is a powerful rotary machine. It has a triple-planetary gear system that has high torque and a 66 frame motor for handling tough jobs. It is also constructed of high quality material so that it is heavy duty and long lasting. Its versatility begins with its various size options. The machine is accompanied by the 17 inch pad driver with bumper. You have the option of adding any of 4 drivers of other sizes: 13, 15, 19 or 21 inches. Continue to expand your machine by adding parts on to handle any floor job.
Carpet – For carpet cleaning, the Versa Pro offers you the shower feed shampoo brush. This brush allows you to agitate pre-sprays and do encapsulation cleaning. It comes in your choice sizes to fit your pad driver. The optional 4 gallon shampoo tank enables you to do carpet shampooing.
Tile and Grout – The cleaning brush comes in different sizes as well and allows you to scrub away grime and dirt from tiled surfaces.
Marble & Stone Floors – Hone and polish those beautiful floors by adding the unicorn weight kit to your order. This kit gives you extra weight right over the pad so you have the pressure you need to get this done. Additionally, weighted pad drivers can be ordered in various sizes for even more pressure.
Vinyl Composition Tile – The kit and weighted pad drivers can also be used to strip, wax and buff this type of flooring.
Hard Wood – Hard wood floors need not be left out since you can also use these same 2 accessories for honing and polishing of this floor variety.
With all of these options, the Versa Pro is an excellent investment for your business.
Accessories: